Contact Lenses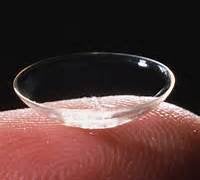 Contact lenses have many positive features including a glasses-free appearance, hassle-free vision correction, not needing prescription sunwear / goggles, and not having to worry about misplacing glasses. If you need a strong prescription or have astigmatism, contact lenses may be better for you, as they provide more enhanced vision correction than glasses. If you wear bifocal glasses, you have the option to be fit with bifocal contact lenses. Our team at Spindel Eye Associates can help you find the best contact lenses based on an eye examination for contact lenses at our office, as well as after evaluating your work and leisure needs.
We offer the following types of contact lenses:
Soft Lenses
Gas-Permeable Lenses
Multifocal Lenses
Colored Contact Lenses
Silicone Hydrogels
About Contact Lens Types
Soft lenses are incredibly comfortable to wear and can be replaced monthly, bi-weekly, or daily, depending on the type that is right for you. These types of contacts are great for athletes because they fit closer to your eyes, which means they have a lesser chance of falling out. They are ideal for various types of prescriptions including astigmatism. Technological advances with soft lenses has allowed such materials as silicone hydrogels to become more breathable, making soft lenses one of the more comfortable types of contact lenses.
Gas-permeable lenses are made of flexible plastics and provide sharp vision, as well as correct a majority of vision problems. They are more durable than soft lenses and are easier to care for, but wearers have reported taking a longer period of time to adjust to these types of contacts. It is imperative you wear these contact lenses consistently in order to adjust. Multifocal lenses come in both soft and gas-permeable designs and offer wearers both distance and near vision correction—just like bifocal glasses. However, instead of having to wear glasses, you can wear comfortable, easy-to-care-for contacts!
Colored contact lenses allow you to change or enhance your eye color. They are fun, unique, and come in a variety of colors for both light and dark eyes. Silicone hydrogels are a type of soft contact lens that are high in oxygen permeability and are similar to gas-permeable lenses. If you would like to learn more about our contact lens options or wish to discover if contacts are ideal for you, please contact our office at (603) 434-4193 in Derry or (603) 432-9578 in Londonderry.