Use Daily Contact Lenses in Derry, NH & Surrounding Areas
Switch to Using Contact Lenses
Switching to contact lenses can improve your vision, eye comfort, confidence, and self-esteem. Wearing contact lenses also offers a safe alternative to wearing glasses every day. At Spindel Eye Associates in Derry, Windham, Raymond, and Londonderry, NH, we offer a wide variety of different brands and types of contact lenses. It's easy to find affordable monthly, weekly, or daily contact lenses to meet your needs and budget. Once you undergo a simple eye exam, we can write you a contact lens prescription and schedule a contact lens fitting. We work closely with each patient to find the best contact lenses for their vision, lifestyle, and comfort.
What Do Contact Lenses Do?
Contact lenses are thin silicone or plastic discs that fit snugly over the cornea. Contact lenses correct many vision issues: nearsightedness, farsightedness, astigmatism, and presbyopia. Your ophthalmologist or optometrist might also recommend that you wear contact lenses as a treatment method for keratoconus or corneal damage, injury, or infection. Contact lenses float on a thin layer of tears and are custom designed to the specific shape of your cornea, ensuring they are comfortable and accurately correct your vision.
Benefits of Wearing Contact Lenses
Wearing contact lenses gives you the freedom to live a more active lifestyle. You won't need to worry about your glasses breaking while playing sports. You'll be able to swim wearing standard swimming goggles rather than prescription ones or ones that fit over your glasses. Other benefits of switching to contact lenses include: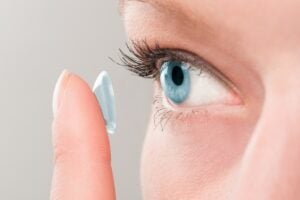 Contacts don't bounce, shift, or slip down.
You'll be able to show off your eye makeup.
Some contact lenses can be worn even while you sleep.
You may develop increased self-esteem and confidence.
Contact lenses don't restrict your movement or activities.
Contact lenses don't pinch your nose or make your ears hurt.
Contact lenses don't obscure your face or distort photographs.
You won't have to purchase expensive prescription sunglasses.
Types of Contact Lenses
Your eye doctor can help you choose the best contact lenses for your vision loss, eye health, lifestyle, comfort, and budget. There are many different types of contact lenses and brands of contact lenses to choose from:
Monthly, Weekly, and Daily Contact Lenses – Disposable, soft contact lenses are worn for a specific period of time and then discarded. You can typically wear them for a month or a week at a time before switching to a new pair. Daily contact lenses are only worn for one day before being discarded for a new pair. Switching out your contact lenses as often as recommended is important, or you risk severe dry eyes, eye damage, or an eye infection.
Overnight Contact Lenses – Some contact lenses are safe to sleep in and wear overnight. Unless you have overnight contact lenses, you should take them out each night, clean them, and store them in a lens storage solution until the next morning.
Contact Lenses for Dry Eyes – Some contact lenses are designed specifically to reduce the symptoms of dry eyes. Your eye doctor will let you know if you need this contact lens.
Hard or Gas Permeable Contact Lenses – This was the only type of contact lens available for years until soft contact lenses were invented. Gas-permeable contact lenses are smaller and harder than soft lenses. They allow more oxygen to reach the eye and last much longer. You can't wear them overnight. They are cleaned with a different lens cleaner and stored overnight in a lens storage solution. You can wear them for up to a year before getting a new contact lens prescription.
What to Expect During an Eye Contact Lens Fitting
A contact lens fitting is necessary to ensure your contact lenses meet the exact measurements of your eyes. If they don't fit properly, you will experience significant discomfort, your vision won't be properly corrected, and you might suffer corneal scratches or damage. During your contact lens fitting, your optometrist will consider your age, eye health, lifestyle, needs, and budget to determine the best contact lenses for you. He will help you choose between monthly, weekly, and daily contact lenses. He will then take measurements of your eyes, checking the curvature and diameter of your corneas. He will also measure your pupil and iris and evaluate your tear film. The entire process is non-invasive and won't be uncomfortable or painful.
Follow-up Care for Contact Lenses
After your fitting, you will receive your contact lens prescription. Your eye doctor will also give you instructions for wearing your contact lenses and education on follow-up care. He will give you a sample of contact lens cleaner and storage solution and a contact lens storage case. He will explain the importance of washing your hands before handling your contact lenses or touching your eyes. He will tell you how to properly clean and store your lenses and discuss the risks associated with not properly cleaning your lenses or overwearing your lenses: infection, corneal scratches, dry eye syndrome, and eye damage. He will also schedule a follow-up visit, typically for a week in the future, to assess how well your contact lenses fit and determine if they are effectively correcting your vision.
Contact Us to Schedule an Exam for Contact Lenses
If you're considering switching to contact lenses, call us today to schedule a contact lens exam in Derry, Windham, Raymond, or Londonderry, NH. Our experienced optometrists can evaluate your eye health and lifestyle to determine if you're a good candidate for contact lenses. If you have an immediate eye concern, our on-call doctor will be paged when we receive your call.