New Hampshire's Leading Eye Care Specialists for 35+ Years
---
Ophthalmologists in Derry, Windham, Londonderry, & Raymond
As one of Southern New Hampshire's leading ophthalmologic and optometric practices, Spindel Eye Associates has been caring for your eye care needs for over 35 years. We have eye care specialists in Derry, Windham, Londonderry, and Raymond who provide everything from routine eye exams to complex ocular disease treatments. Our experienced eye doctors are board-certified and highly trained. Using the most advanced technology and highest quality standards, we ensure every patient receives the safest eye care treatment. Schedule an appointment with us today at the location nearest you!
From Eye Exams to LASIK, We Offer Comprehensive Eye Care
The ophthalmologists at Spindel Eye Associates perform various eye care services utilizing top-of-the-line technology and comprehensive procedures. We proudly offer all of the following and more:
Meet Our Dedicated Eye Doctors in Southern New Hampshire
Spindel Eye Associates is focused on enhancing your vision and eye health with the best eye care solutions possible. Our optometrists and ophthalmologists treat your eyes with the utmost care and professionalism. Take a moment to meet our friendly, dedicated eye doctors in New Hampshire:
Why Choose Spindel Eye Associates for Treatment?
At Spindel Eye Associates, we are medically driven and focused on treating or preventing ocular disease by offering thorough eye exams and treatments. We utilize the most advanced technology to treat your eyes. Updating our technology allows us to provide the best eye care services that are convenient and effective to improve your vision or eye health in no time. Just as our technology advances, our eye doctors advance their knowledge in this ever-changing field of medicine. While our doctors are experts in their procedures and practices, they keep up with these continual changes to enhance our eye care treatment. We want you to feel safe and comfortable during your visits. We're committed to improving your eye health through our prestigious ophthalmologic and optometric services. Come see us today!
Discover the Journey Behind the Raymond Office
We invite you to relive the entire journey, from conception to opening of the Raymond Main Street Medical Park, in this New Hampshire Business Review article. This project, which pairs both state-of-the-art technology with a traditional aesthetic, is designed to offer a full-service and efficient approach to providing healthcare. Overseen by Chris Nickerson, owner of Nickerson Designs, the facility brings an array of specialized healthcare services to the Raymond, NH community.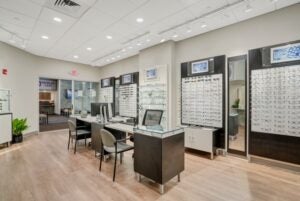 Enhance Your Eye Health by Scheduling an Appointment
At Spindel Eye Associates, we take your eye health seriously. Our eye care specialists in Derry, Windham, Londonderry, and Raymond are committed to meeting your eye care needs using the safest, most efficient methods. Whether it's time for an eye exam or you're considering changing your life with LASIK eye surgery, you may contact us today to schedule an appointment at your earliest convenience. Some of our locations are open on Saturdays to accommodate your busy schedule. Be sure to ask about our accepted insurance plans and flexible financing options to make your family's eye care more affordable!