Optical Services
Full-service Vision Centers Located in Southern New Hampshire
You never realize how much you depend on your eyes until things start to get blurry. Choosing the right optometrist can seem like a daunting task, but the experts at Spindel Eye Associates make the process a whole lot easier. The friendly and professional team at our full-service optical center is dedicated to providing convenient eye examinations, high-quality glasses, frames, prescription sunglasses, contact lenses, bifocals, and so much more! An experienced optician can help you choose a frame that enhances your facial features, as well as a pair of sunglasses that compliments your signature style. With hundreds of stylish designs to choose from, state-of-the-art equipment, and trained optometrists that have over 30 years of experience, you can count on Spindel Eye Associates to provide the best vision services in town.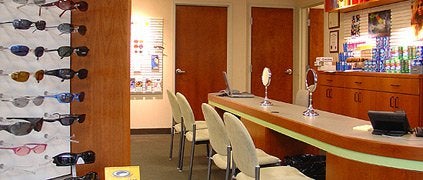 Comprehensive eye exams
A visit to the eye doctor is about more than just updating your prescription or choosing a new pair of frames. Certain eye problems like glaucoma and macular degeneration are hard to detect if you do not know what to look for, but a thorough eye evaluation performed by a skilled optometrist at Spindel Eye Associates can help diagnose conditions early before it starts affecting your eye sight. Eye exams can also help with your new glasses prescription, determine whether you are a good candidate for contact lenses, or answer your questions about digital lenses, so set up an appointment today!
Choosing between prescription glasses and contact lenses
Making the decision between glasses and contacts depends mostly on your personal preferences. Glasses and contacts can both correct nearsightedness or farsightedness, but glasses are preferable when it comes to bifocals or if you only need vision correction for reading. Glasses require very little maintenance, reduce your risk for eye infections, and can make a great fashion statement. Contact lenses offer unobstructed peripheral vision, make playing sports a lot easier since you don't have to worry about them falling off or breaking, and can even change the color of your eyes. No matter which way you are leaning, the knowledgeable team at Spindel Eye Associates is happy to go through the pros and cons with you.
Providing Essilor Lens Designs
We live in an age of booming technology where "high definition" is now used to describe more than just TV screens. That's why Spindel Eye Associates is proud to bring you vision products from Essilor, the world's leading provider of optical eyeglass lenses. By applying HD technology to the production and digital manufacturing of eyeglass lenses, Essilor creates an enhanced vision experience with the most beautiful, comfortable, and durable corrective lens designs. Their innovative visual fatigue solutions make interacting with technology in the workplace and at home a lot more enjoyable.
The exceptional team at Spindel Eye Associates is happy to help you with everything from "task specific" eyewear to contact lenses, so schedule an appointment today!
For more information on contact lenses or prescription glasses, call us today!