EVO ICL Eye Surgery in New Hampshire
EVO ICL Eye Surgery With Spindel Eye Associates
Transform your vision with EVO ICL, the revolutionary Implantable Collamer Lens that corrects nearsightedness and astigmatism in a quick, non-invasive procedure. Made from a biocompatible material, the lens is implanted in the eye leaving your corneal tissue intact, unlike traditional Lasik eye surgery. Say goodbye to glasses and contacts and hello to clear vision with EVO ICL.
Understanding the EVO ICL Eye Surgery Process

EVO ICL eye surgery is a highly advanced, non-invasive procedure that is performed on an outpatient basis and takes 20-30 minutes. Before the surgery, an initial examination is done to determine that EVO ICL is the right fit for the patient's specific needs. Once the patient has been cleared for the procedure, a date is scheduled for the surgery.
On the day of the procedure, the patient's eyes will be numbed with an anesthetic eye drop. Next, the surgeon will create a small opening in the cornea and then implant the EVO ICL between the iris and the natural lens. The Collamer lens, which is slightly smaller than a contact lens, works in harmony with the eye.
The Benefits of EVO ICL Eye Surgery
There are many benefits associated with opting for EVO ICL eye surgery to reduce a patient's dependency on glasses or contact lenses, including:
Clear, sharp vision
Improved night vision
No risk of dry eye syndrome
A quick and convenient procedure
No significant downtime
No removal of corneal tissue
Reversible
Additional UV ray protection
Eligible Candidates for ICL Eye Surgery
EVO ICL is suitable for patients looking for a vision correction solution who may not be eligible for Lasik eye surgery. The ideal candidates for ICL eye surgery fall into the following criteria:
Patients between the ages of 21-45
Patients with moderate to severe nearsightedness
Patients with a prescription that has been stable for a year or longer
Patients with good ocular health
Patients with no history of glaucoma, iritis, or diabetic eye disease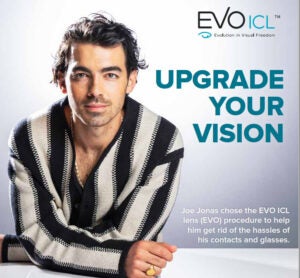 Recovery From EVO ICL Eye Surgery
After the procedure, the patient will be given post-operative instructions to follow. The recovery time is minimal, and most patients are able to return to their normal activities within a day or two.
Is the EVO ICL Removable?
Although the lens is a permanent vision correction solution, it is unique in the sense that it can be removed at any time. Whether a patient is not satisfied with the results or wishes to have their lens upgraded, a patient has the opportunity to have it removed by their doctor at any time.
Will Other People Be Able to See the Lens?
An added advantage to this revolutionary vision correction procedure is that the EVO ICL is virtually undetectable. You and other people will not be able to see the lens, as it's placed behind your iris.
Will I Be Able to Feel the Lens?
Patients who choose to undergo EVO ICL eye surgery are not able to feel the lens in their eyes. The lens is strategically placed in a position that does not affect any structures within the eye and will not move once it's surgically implanted, offering a comfortable, painless vision solution.
Will EVO ICL Eye Surgery Eliminate My Need for Reading Glasses?
EVO ICL eye surgery will correct nearsightedness and astigmatism, helping to improve your vision when observing objects from a distance and improving your night vision. However, it does not eliminate the need for reading glasses, and you may still need to use them. Additionally, if you do not currently use reading glasses, EVO ICL eye surgery does not reduce the risk of needing reading glasses in the future.
Risks Associated With EVO ICL Eye Surgery
As with any medical procedure, there are risks associated with EVO ICL eye surgery. However, these complications are rare and can typically be rectified when promptly addressed. Potential risks include:
Inflammation
Increased eye pressure
The need for a secondary procedure
Industry-Leading Eye Care With Spindel Eye Associates
At Spindel Eye Associates, you will receive the highest standard of care. Our team of experienced surgeons will guide you through every step of the process, ensuring that you are comfortable and well-informed throughout the procedure. We are dedicated to helping you achieve the best possible visual outcome.
Schedule Your EVO ICL Eye Surgery Consultation Today
If you are interested in corrective eye surgery and are considering EVO ICL eye surgery, choose the experts at Spindel Eye Associates to handle your vision care. We invite you to schedule a consultation with one of our ophthalmologists to discuss your options and determine if this procedure is the right fit for you.