Dr. Brandon D. Nguyen, O.D. in Londonderry OFFICE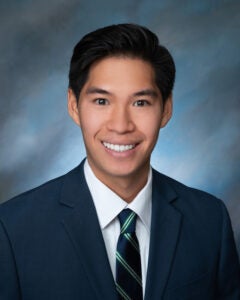 Dr. Brandon D. Nguyen, O.D. graduated from New England College of Optometry in Boston, MA where he obtained his Doctorate of Optometry degree, receiving clinical honors during his final year externships. Before optometry school, he earned his Bachelor of Science in Physiology & Neurobiology from the University of Connecticut.
Dr. Nguyen is Board certified in Parts I, II, III, and Treatment & Management of Ocular Disease (TMOD). His interests include managing ocular diseases such as glaucoma and diabetic retinopathy of the eyes as well as cataract pre-operative and post- operative care. He is affiliated with the American Optometric Association (AOA) and the New Hampshire Optometric Association (NHOA).
Dr. Nguyen was born and raised in Nashua, NH and enjoys running, traveling to new countries, and spending quality time with family and friends. He used to shadow at Spindel Eye during the summers as a college student and is excited to return now as a practicing eye doctor.