We are honored to welcome Dr. Dane Slentz to the Derry Practice on July 22, 2022
Dr. Dane Slentz, M.D. in Derry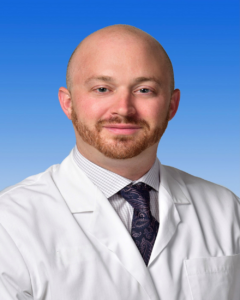 Dr. Dane Slentz M.D. was born in upstate New York and grew up in central Vermont. He completed his undergraduate studies in chemistry at the University of Utah with Cum Laude honors and then spent a year at the National Institutes of Health (NIH) in Bethesda, Maryland performing biomedical research. He received his medical degree from the Larner College of Medicine at the University of Vermont. Dr. Slentz completed his internship at Yale-New Haven Hospital in New Haven, Connecticut, and his ophthalmology residency training at The George Washington University in Washington, DC where he served as chief resident.
Dr. Slentz is a board-certified oculoplastic and reconstructive surgeon. He specializes in plastic surgery and reconstruction of the structures surrounding the eyes, including the orbit, eye socket, and lacrimal (tear duct) system. His expertise includes management of droopy eyelids and eyebrows, eyelid malpositions (entropion, ectropion), periocular cancer and eyelid lesions, post-Moh's reconstruction, tearing/epiphora, tear duct reconstruction, an ophthalmic socket reconstruction, thyroid eye disease, neurotoxin (botulinum toxin) for management of periorbital spasms, and orbital and periorbital trauma.
Dr. Slentz has also completed a two-year American Society of Ophthalmic Plastic and Reconstructive Surgery (ASOPRS) approved oculoplastics fellowship at the University of Michigan. He has authored peer-reviewed research articles and textbook chapters and is particularly interested in the use of umbilical amniotic membrane for eye socket reconstruction.
Dr. Slentz lives with his wife, daughter, and Goldendoodle. He is an avid snowboarder and loves photography, hiking, and traveling. He has provided international ophthalmologic care in Guayaquil, Ecuador, and Addis Ababa, Ethiopia, and looks forward to continuing this type of humanitarian work in the future.