LASIK Eye Surgery
---
LASIK eye surgery is the safest, most effective refractive surgical procedure specifically designed to correct your vision. As eye care physicians, we understand the frustration that comes from dealing with glasses or contact lenses, which is why our expert ophthalmologists offer this breakthrough procedure to give you crystal-clear vision.
Why choose Spindel Eye Associates?
---
Experience is important when selecting a surgeon for your LASIK procedure. Our experienced eye doctors have performed thousands of LASIK procedures on patients with varying eye care needs, achieving safe and reliable results. Our eye surgeons have over 30 years of experience in corrective eye surgery.
LASIK experts Dr. Guenena and Dr. Vazan will ensure you have the most complete and proper eye exam and surgery possible. Our dedication to appropriate preoperative examinations is critical for our excellent surgical track record. If you are seeking LASIK in New Hampshire, please take the first step and complete our LASIK self-evaluation test.
Our LASIK institute is committed to helping you see more clearly. A surgical coordinator will contact you for a more thorough explanation of what you can expect during LASIK eye surgery. The Spindel Eye Associates team is committed to providing you with honest answers regarding the safety and effectiveness of LASIK laser vision correction.
About LASIK
---
Laser-assisted in-situ keratomileusis, better known as LASIK, is a revolutionary laser eye surgery used to correct the vision of people who are nearsighted or farsighted or have astigmatism. LASIK works by reshaping the cornea to properly focus light onto the retina in the back of the eye. It has a 96% success rate, causes very little pain, and corrects vision immediately with no bandages or stitches required. Adjustments can be made if your vision changes, but you will notice a dramatic reduction in your dependence on eyeglasses or contact lenses—if you still need them at all.
Benefits of LASIK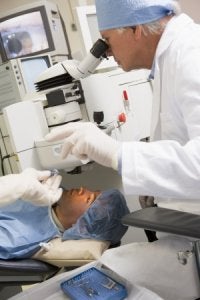 ---
Low risk of complications: All forms of LASIK have a very high success rate.
Drastically improved vision: About 95% of people who undergo LASIK achieve a visual acuity of 20/40 or better. Can you imagine what your life would be like with drastically improved vision?
No need for corrective eyewear: The vast majority of people who undergo LASIK surgery no longer need glasses or contacts to see properly. If you opt for LASIK surgery, you could free yourself from the hassle and expense of prescription corrective eyewear.
Things to Consider Before LASIK Surgery
---
Before deciding on LASIK, talk with the eye surgeons at Spindel Eye Associates to see if you are a good candidate for the procedure. Certain factors like your age, prescription strength, and any additional eye problems may actually hinder the effectiveness of vision surgery. Also, LASIK is not a one-stop solution for making your glasses disappear. There are many steps leading up to the procedure, you may have to come back years later for additional touch-ups, and you may still need reading glasses post-surgery. Call us today to set up your FREE LASIK consultation with Dr. Guenena or Dr. Vazan!

Candidates for LASIK
---
If you have been diagnosed with one of the following conditions, you may be a good candidate for LASIK surgery.
Farsightedness: Farsightedness, or hyperopia, occurs in people with eyes that are shorter than average, which can caused blurred vision at distance and near.
Nearsightedness: Nearsightedness (myopia) is the opposite of farsightedness. Nearsighted people have longer eyes, and have difficulty seeing objects that are far away.
Astigmatism: People with astigmatism typically have trouble seeing objects at any distance. This condition occurs in people with unusually shaped corneas. The cornea is the transparent cap covering the front of the eye.
New Hampshire LASIK experts Dr. Mohamed Guenena and Dr. David Vazan have listed some typical requirements below to help you get a better understanding of LASIK candidacy:
Must be over 18 years of age.
Must have a stable vision prescription.
Must have a track record of healthy eyes.
Must not have keratoconus.
Must not have severe dry eye syndrome.
Must not be pregnant.
Must pass corneal thickness tests.
Testing for LASIK
---
Your decision to have laser eye surgery depends on the results of a very thorough preoperative evaluation. On the day of your preoperative exam, we will complete multiple tests and points of evaluation, including:
Corneal thickness testing
Pupil size measurement
Dry eye evaluation
Tests to analyze the shape of your cornea
Measure the level of nearsightedness, farsightedness, or astigmatism
Wavefront measurements
Complete dilated eye exam to review retina
Try our LASIK Self-evaluation Test
Preparing for LASIK Surgery
---
To prepare for your refractive surgery, you should:

Read the more about tips of preparation for your LASIK surgery.
Tips for your LASIK Recovery
---
Recovering from laser eye surgery is a fast and often painless process. Read the more about tips of the LASIK recovery process.
Contact the LASIK specialists at Spindel Eye Associates today!