David J. Ramsey, M.D. in Derry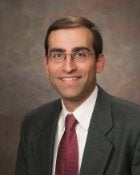 Doctor David Ramsey, M.D. trained at the University of Illinois at Chicago, a combined medical degree with both a Ph.D. in Physiology & Biophysics and a Masters in Public Health Administration, as the first triple-degree student to graduate from the College of Medicine.
Among his individual accomplishments in innovation is being the first investigator to make direct cellular recordings from retinal neurons from a diabetic retina. His dissertation, completed under the direction of Dr. Haohua Qian at the University of Illinois at Chicago Lions Eye Research Institute, "Modulation of the GABA Signaling Pathway in the Diabetic Retina," applied a systems-based approach to the changes in signaling that occur in the diabetic retina.  Importantly, this body of work has formed the foundation for his present research efforts within the field of diabetic retinopathy at Lahey Hospital & Medical Center, where they are using a device to deliver light therapy as part of a clinical trial in patients with diabetes. They are currently testing a light-mask that he developed to modulate the activity of the retina in order to reduce oxidative and metabolic stress associated with the disease.  He hypothesizes that the prevention of dark adaptation by having patients with diabetic retinopathy employ a device that prevents complete dark adaptation during the hours of sleep will reduce the severity of hypoxic stress in the retina that drives the abnormal production of the pro-angiogenic growth factor, VEGF.
His research seeks to exploit this fundamental aspect of retinal physiology by harnessing light as a treatment regimen for diabetic retinopathy giving patients the quality eye care they need.  Ongoing studies in the Lahey Divisions of Ophthalmology are seeking to determine whether this noninvasive intervention can limit the progression of diabetic retinopathy to PDR and/or reduce levels of sight-impairing macular edema.
Dr. David Ramsey is the Harry N. Lee Family Chair in Innovation Director of Ophthalmic Research at Lahey Hospital, as well as the Medical Center Assistant Professor of Ophthalmology at Tufts University School of Medicine.