Eye Exam for Contact Lenses in Southern NH
If you have decided to ditch the glasses and opt for contact lenses, then the professional team at Spindel Eye Associates is ready to help you make a smooth transition. As one of the leading eye care facilities in Southern New Hampshire, we have over 35 years of experience in providing safe, reliable, and effective contact lens exams. We use the latest technology and techniques to guarantee accurate prescriptions and comfortable fittings.
Whether you need contact lenses for sports, occasional or full-time wear, or you're just sick of your glasses fogging up while wearing a mask, there are an array of options for you. If you are new to contact lenses or struggling with your current prescription, our optometrists at Spindel Eye Associates may be able to help you!
                                                                                                                                                             
A NORMAL EYE EXAM VS. A CONTACT LENS EXAM
A routine eye exam is important for your overall eye health whether you need vision correction or not. The eye doctor will check for signs of health conditions or ocular diseases, conduct a thorough vision test, examine how the eyes work together, and check fluid pressure.
A contact lens exam starts after all routine testing is complete, so make sure you tell your optometrist that you want a contact lens prescription ahead of time so your exam includes the fittings or prescription update. Main components of a contact lens exam include:
TYPES OF CONTACT LENSES
Some of the different types of contact lenses we offer include: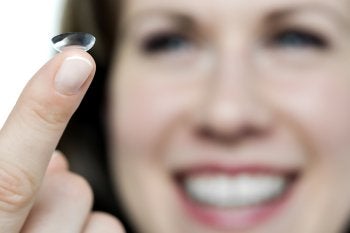 Daily disposable contact lenses
Bifocal contact lenses
Soft contact lenses ranging from 2 weeks to monthly extended wear
Toric contact lenses for astigmatism
Special monovision contact lenses
Color contact lenses
RGP (rigid gas permeable contact lenses): commonly known as 'hard contacts'
Scleral contact lenses: a larger diameter hard contact lens
Hybrid lenses: vision quality of an RGP lens with the comfort of a soft lens
Contact lenses are not for everyone, but there are a wide variety of options to choose from that cover most eye shapes and vision problems.
WHAT TO EXPECT DURING YOUR CONTACT LENS FITTING
In order to protect the delicate tissue of your eyes, an optometrist will first take a variety of measurements to ensure that the contacts fit properly. Your optometrist will begin by discussing your individual needs for contacts. Measurements will then be taken to determine your distance and near vision, followed by the curvature of your cornea. It is important that the health of your cornea is also thoroughly evaluated prior to the lens type and lens specifications being determined. Your doctor will then discuss their recommendation with you and fit you for your contacts.
Once your optometrist determines your contact lens prescription and completes all measurements, you will be given a sample pair of contacts to put in. The eye doctor will use a biomicroscope, or slit lamp, to evaluate the fit of the trial contact lenses and detect any changes caused by the contact lens wear. At this time, your doctor will also teach you how to handle and clean your contacts. You will then take them home with you and make sure the vision and comfort are suitable.
FOLLOW-UP VISIT
After the initial contact lens fitting, a follow-up appointment is required 1 – 2 weeks after your initial fitting to ensure the lenses are resting properly on your eyes. Depending on the complexity of your contact lens fit, you may need to return several times before your prescription is finalized by your doctor.  If everything looks good, your eye doctor will give you a contact lens prescription that designates your contact lens power, base curve, and diameter.
Contact lens prescriptions expire after one year. We recommend annual contact lens re-evaluations to ensure that your eyes continue to tolerate the prescribed lenses.
If you are brand new to prescription contacts, you can count on the friendly team at Spindel Eye Associates to walk you through the entire process. We are dedicated to providing the very best eye care services, so contact us today to find out more information!