Finding the Perfect Glasses for Your Child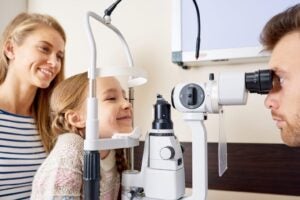 Taking your child for regular eye exams is important, especially because children's vision is constantly developing. Seeing an eye doctor regularly can help catch problems before they interfere with your child's school performance, and your doctor can determine whether or not your child needs glasses. If it's determined that glasses are required, though, it will be your job to find the right glasses. This can be a challenge, but by following a few simple guidelines you can find the perfect pair.
First, get your kids excited about wearing glasses. Involve your children in the process of choosing their own glasses, talking to them before you go, and perhaps even reading a book about the subject. Talk about favorite glasses-wearing characters, like Harry Potter or Professor Hulk, and make sure to go shopping when your child is relaxed and in the mood. It can also help to let the child bring along a favorite stuffed animal or toy.
Functionality is more important than looks. It's important to find frames that fit correctly, and are durable enough to take whatever punishment childhood can dish out. Consider rubberized frames, and make sure you choose frames with a bridge that's not too wide over your child's nose. Glasses with side pieces that wrap around the ear, called "cabled temples", or with an elastic strap that goes around the head, will help keep them on a rambunctious child, and spring hinges will help prevent a need for frequent repairs and adjustments. Go for scratch-proof lenses, and get glasses with a good warranty.
For a child to wear glasses, they have to be comfortable. Make sure your child gets a professional fitting by an optician, to ensure that the glasses fit comfortably and appropriately. A child is more likely to wear glasses if he or she likes them, so they need to be both comfortable and aesthetically appealing.
Pick the right frames for your child's face shape, but also for his or her personality. It's easy to find guidelines for choosing frames that won't overwhelm your child's facial structure, but it's just as important to choose a pair that fits your child's unique disposition, as well. Some children like being noticed, while others prefer to blend in, and some children have strong opinions about style.
It's smart to get more than one pair. Sometimes, you can even get a discount when you get more than one pair, so it's a good idea to ask. If your child plays sports, you might be able to get sports goggles that will double as that extra pair.
If you're looking for an ophthalmologist or optometrist in Derry, Londonderry or Windham, Spindel Eye Associates is here for you. Celebrating our thirtieth year of eye care, we proudly provide our patients with personalized eye care, using top of the line technology. For more information or to schedule an appointment call 603.421.6536 or contact us through our website.
""