Online shopping is a convenient choice for many types of purchases. However, if you need a new pair of eyeglasses, you're much better off visiting an eye doctor in Derry instead of bargain shopping online. Purchasing frames and lenses online can involve hidden dangers that even savvy consumers may be unaware of until it's too late. Instead of taking these risks, you can make the right choice the first time by visiting an eye doctor.
Prescription Accuracy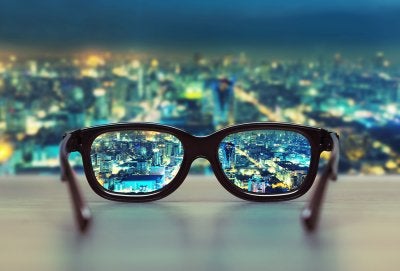 One of the primary reasons why it's best to go to an eye doctor for eyeglasses instead of purchasing them at a discount website is that your eye doctor will ensure you receive lenses with the right prescription.  It isn't uncommon for online retailers to ship eyeglasses with one or both lenses at the wrong prescription for the consumer. Additionally, eye doctors can evaluate your pupil distance. Your pupil distance isn't included on standard prescriptions. Only your eye doctor can customize your lenses to ensure that the center of each lens is spaced appropriately.
Eyeglass Fit
The fit of eyeglasses is crucial for both comfort and eye health. When you order a pair of eyeglasses from an online retailer, it isn't possible to try on the frames first. If you order glasses that do not fit properly, they might cause headaches and they may pinch uncomfortably. They may even cause vision problems.
Lenses Material
Your eye doctor can inform you of the choices of lenses material available to you. He or she can also provide personalized recommendations, depending on your unique needs, preferences, and lifestyle. For example, your doctor may offer specialized lenses designed specifically to combat visual fatigue syndrome. Lenses are also available in a variety of coatings and treatments, including photochromic lenses and non-glare coatings.
Maintenance Policies
Another reason why it is advisable to turn to an optometrist when it's time for a new pair of eyeglasses is that only your eye doctor can offer trustworthy, rapid maintenance services. If your eyeglass frames break or the lenses become scratched, you can simply bring them into the office for a quick repair, rather than shipping them to an online retailer, which may or may not perform the job correctly.