Wearing Makeup with Glasses or Contacts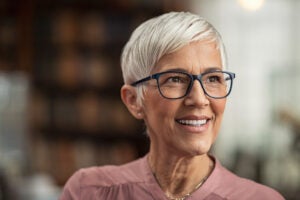 Makeup is great for enhancing your look, but things get a little tricky when glasses or contacts join the mix. Use these tips to help you look your best and minimize the potential for eye irritation.
Making Your Makeup Work with Glasses
If you recently started wearing glasses, you may need to modify your makeup approach. Start by choosing frames in a color and style that complements your look. If you love wearing bold, dark makeup, then clear plastic frames, wire frames, or rimless glasses might work best. If you prefer to go minimal on the makeup, you can still add flair with thicker frames in a color that goes with your hair or wardrobe.
It also matters whether your lenses magnify your eyes or make them appear smaller. If you want to play down your enlarged eyes, consider matte eye shadow and neutral colors. If your goal is to enlarge your smaller-looking eyes, try lash-lengthening mascara and dark eyeliner.
Whether you end up going for a bold look or a neutral one, these tips can help makeup work well with glasses:
Choose bold, bright lipstick to balance out thick, dark frames.
Wear concealer to hide the illusion of dark circles under the eyes caused by frame shadows.
Dab primer on the bridge of your nose to help prevent your glasses from slipping.
Have your glasses professionally fitted so they sit far enough away from your eyes to avoid mascara streaks.
Consider a smaller frame size if you color your eyebrows to minimize the visual competition here.
Contact Lenses and Makeup
For contact lens wearers, the concerns are less about looks and more about keeping things sanitary. Follow these tips to avoid eye irritation and infections:
Wash your hands and put in your contacts before applying makeup.
Only use non-allergenic makeup. If you develop redness, itchiness, or a rash after applying a new kind of makeup, stop using that product immediately.
Consider cream eye shadow instead of powder to minimize the risk of irritation.
Avoid waterproof mascara, which requires you to scrub harder to remove this makeup at the end of the day.
Don't apply eyeliner to the waterline. Otherwise, makeup could get in your eyes and irritate them.
Wash your hands and take out your contacts before removing your makeup.
Check your makeup bag frequently for expiration dates, and throw away any makeup that has expired.
Clean your makeup brushes regularly, and replace your mascara every three months.
Don't share makeup products with other people, even if they seem healthy.
If you're ready to change up your look with a new pair of glasses, or you want to try contact lenses for the first time, call Spindel Eye Associates. Our eye specialists have over 35 years of experience helping our patients enjoy clear vision. For more information or to schedule an appointment in Derry, Londonderry, Windham, or Raymond NH, please call 603.421.6536 or contact us online.