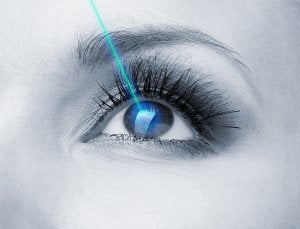 If you're considering LASIK eye surgery near Manchester , Derry, or Londonderry, you probably have a lot of questions for your eye doctor. LASIK eye surgery is a highly effective, very safe form of eye surgery that uses an extremely precise laser to correct vision. Eye doctors and ophthalmologists who perform laser eye surgery have been extensively trained in the operation of the lasers used for the surgery. Continue reading for more information on how LASIK surgery can correct your vision.
Who Can Benefit from Laser Eye Surgery?
LASIK eye surgery and other methods of laser eye surgery are very effective for people with certain vision problems. If you suffer from nearsightedness, or myopia, and find that distant objects are blurry while closer objects appear more in focus, laser eye surgery may be able to correct the problem. Astigmatism, which causes overall blurry vision, can also be corrected by LASIK surgery. LASIK is also a very effective form of vision correction for farsightedness, a condition that causes distant objects to appear very clear, while nearby objects look blurry.
How Well Can LASIK Correct Vision?
The results of LASIK eye surgery vary from person to person, and can depend on a number of factors, including your specific vision problems and their severity, your age, your overall health, and how conscientious you are about following your eye doctor's post-surgery instructions. In general, LASIK eye surgery has a very high success rate, and risks and complications are extremely rare. Typically, patients' vision correction post-surgery is at about 96%, and further eye treatments can correct vision even more.
How Long Do the Results Last?
The results of laser eye surgery are generally permanent, but you can decide to undergo further vision correction with your eye doctor or ophthalmologist if you want to enhance the results. As you age, you may develop other vision problems, such as cataracts, but that is a normal result of growing older. The dramatic vision correction offered by laser eye surgery is very stable unless other eye diseases or conditions develop.