Why You Should Always Bring Your Current Glasses to Your Eye Exam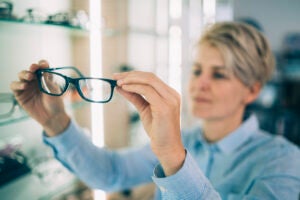 If you've got glasses, you know that they don't always work well for you. Your glasses may not improve your vision to the degree you'd like, or you may just not like them or like wearing them. Often, patients neglect to bring their glasses when they see their eye doctor because they think it's better for the doctor to start over from scratch instead of working with a pair of glasses they just don't really care for. However, it's important to always bring your current pair of eyeglasses with you when you go for your regular eye exams.
Most doctors will request this. And sometimes, patients leave their glasses at home accidentally, showing up without them because they were in a rush to get to the appointment or simply forgot to bring them. Other times, the glasses can't be brought to the appointment because they've been lost, stolen, or broken. People absentmindedly set their glasses on the roof of the car before driving away and either lose them or run over them. They leave them in vacation rentals or at friends' houses, or they simply lose them while going about their daily lives. If this is your situation, don't worry, your eye doctor will understand. You're probably not saying anything the doctor hasn't heard before.
If you're purposefully leaving your glasses behind, we'd like to ask you not to do that. There are some good reasons your eye doctor would like to see your current pair of glasses. First, your eye doctor needs to know exactly what type of glasses you're wearing. Do you only wear them for distance or for reading? Are they bifocals or trifocals? Do you wear progressive lenses? Even if they're not really working for you, the eye doctor would still like to see them in order to know exactly what kind of lens you currently have. Your doctor would also like to evaluate how well you're seeing out of your glasses. By knowing the current prescription and seeing how it's working for you, your eye doctor can better determine which new prescription is going to do a better job.
Additionally, most people who wear glasses have some degree of astigmatism. If the eye doctor changes your prescription too dramatically, you may not tolerate your new glasses well and a significant change in the astigmatism correction can be problematic. Sometimes, a big change can create a pulling sensation when you wear your new glasses. You may experience eye strain and headaches or may notice that flat objects suddenly look slanted. These problems can typically be avoided if your doctor has your old glasses for comparison and isn't working blind. That's why bringing your current glasses to your eye exams is almost as important as scheduling those exams regularly.
If you're looking for an ophthalmologist or optometrist in Derry, Londonderry, Windham, or Raymond, Spindel Eye Associates is here for you. Celebrating over thirty-five years of eye care, we proudly provide our patients with personalized eye care, using top of the line technology. For more information or to schedule an appointment call 603.421.6536 or contact us through our website.