5 Tips for First Time Contact Lens Wearers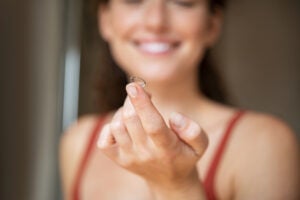 Have you been given a prescription for contact lenses? Congratulations! Contacts are a boon, allowing you to forego glasses while still seeing clearly. Are you nervous? Don't be. We've got some tips that will make contact lens usage and care a breeze.
Stay calm and practice. When they first begin using contact lenses, people have irrational worries, fearing the contact will get stuck, travel behind the eye, or cause permanent damage. In fact, it's not very hard to put in your contacts, and they're safe. They can't go behind the eye because the eyelids are attached to the back of the eye, they won't scratch your eyes, and there's no chance that they're going to get stuck. Thoroughly wash your hands and then practice taking your contacts in and out a few times, so that you can get the hang of it.
Keep your contact lenses scrupulously clean. Because they directly touch your eye, contacts must be free from bacteria and other contaminants. Proper contact lens care involves very specific instructions, given to you with your lenses. Follow these carefully, and never rinse your contacts with water or put them in your mouth.
Replace your lenses when you're supposed to and don't wear them too long. Wearing lenses longer than is recommended can lead to eye irritation or even infections. Don't try to stretch out the length of time you keep your lenses, and never sleep in contact lenses unless you've been specifically instructed to do so.
Carefully dispose of your contact lenses and their packaging. Never put lenses into your plumbing; always throw them into the trash. Recycle the packaging as directed and if you're concerned about the sustainability of your lenses, talk to your doctor about your options.
Follow your doctor's advice on all things contact lens-related. Whether it's cleaning your lenses, the length of time you should wear them, or how often you should come back for an appointment, your eye doctor knows the scoop. Carefully following your ophthalmologist's or optometrist's instructions will lead to fewer problems, healthier eyes, and better vision.
Having an eye doctor who you can trust is an important part of keeping your eyes healthy. If you're looking for an ophthalmologist or optometrist in Derry, Londonderry or Windham, Spindel Eye Associates is here for you. Celebrating over thirty-five years in eye care, we proudly provide our patients with personalized eye care, using top of the line technology. For more information or to schedule an appointment call 603.421.6536 or contact us through our website.