Choosing the Right Frames for Your Face Shape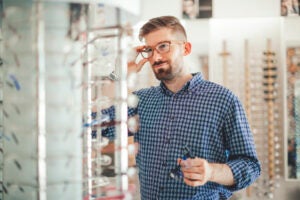 Wearing glasses isn't just about correcting your vision; it's also about making a fashion statement. When choosing new glasses to enhance your look, you should consider the shape of your face. Follow this guide to help you select frames that complement your face shape and convey your style.
Frames for a Square Face Shape
A square-shaped face features a broad forehead, wide-set jawline, and square chin. Choose round or oval-shaped frames to soften these angles and highlight your eyes. Avoid angular frames, which emphasize the already prominent features of your face.
Frames for a Round Face Shape
A round face means your cheeks are the widest feature, and your jawline is less defined. To make your face appear longer and thinner, opt for rectangular or square frames. These straight, angular lines balance and sharpen your features. Avoid circular frames, which make your face appear rounder.
Frames for a Heart-Shaped Face
With a heart-shaped face, the forehead is broad, and the chin is pointed. Consider rimless or light-colored glasses to balance and instantly flatter your features. Avoid aviators and semi-rimmed frames that draw attention to the widest part of your face.
Frames for a Triangle Face Shape
If you have a triangle-shaped face, your jawline is wider than your forehead, and your chin is small. To create a flattering balance, select frames that are wider at the top than the bottom, such as cat-eye or semi-rimless frames. You can also soften your cheekbones by wearing curved aviators. Avoid glasses with a heavy bottom, as this can emphasize your chin.
Frames for an Oval Face Shape
Oval faces are longer than they are wide, and the forehead is slightly wider than the chin. Lucky for you, it's easy to find the right frame for an oval-shaped face, as almost any style complements it. Even so, it's best to choose glasses that are slightly wider than the broadest part of your face. Have fun experimenting with different frame shapes and styles.
Frames for a Diamond Face Shape
A diamond-shaped face is characterized by wide cheekbones and a narrow forehead and chin. Pick frames with a bold brow line and a round or oval shape to balance your features. Cat-eye frames work well by emphasizing the eyes and softening the angles of your face. Avoid narrow frames, which make your face appear longer.
Frames for an Oblong Face Shape
An oblong face is longer than it is wide, with a forehead, cheekbones, and jawline that are all roughly the same width. Balance and emphasize your best features with square or round frames. Avoid narrow frames that emphasize the length of your face.
Pick the Right Frames for Your Face Shape at Spindel Eye Associates
Whether your eye doctor just prescribed glasses for the first time or you're ready to update your old frames, visit Spindel Eye Associates in Southern New Hampshire for a look at our affordable, brand-name eyewear. Shop for frames on your own or seek advice from our friendly eye care specialists to ensure you find the right frame for your face shape. For more information, please call 603-434-4193.