Finding the Best Prescription Sunglasses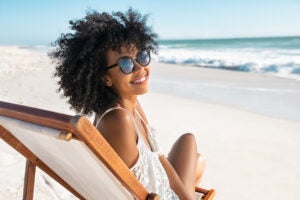 You slather on the sunscreen every time you head outside, but what are you doing to protect your eyes from UV rays? You can go with regular sunglasses, but if you have an eyeglass prescription, prescription sunglasses are a much better solution. They're far more convenient than scrambling for clip on sun lenses every time the sun gets in your eyes, and if you wear contact lenses, they're preferable to wearing your contacts on the beach or while you're swimming. Prescription sunglasses are an investment, though, so you'll want to be sure you're choosing the right pair. Fortunately, you have number of options! Even if you need bifocals or progressive lenses, there are prescription sunglasses for you. So, how do you choose the best prescription sunglasses for you? Here are some tips to help you choose.
What are the best prescription sunglasses frames? This depends largely on how you will be using your sunglasses. Are you extremely active? Wraparound sunglasses may be your preference, but you should discuss this with your optician before ordering them because sometimes, the extreme curves of wraparounds can distort your vision. Non-slip sports sunglasses are available, and if you don't have any special activity requirements, you can choose just about any frame that appeals to your sense of style.
You can have your pick of lens materials for your prescription sunglasses. High-index, polycarbonate, Trivex, glass, and regular plastic are all viable options. Glass is no longer the most popular option, because glass lenses are heavy and easy to break. You can even choose transition lenses, which have photochromic tint that darkens in sunlight and lightens indoors. The only drawback of photochromic lenses is that they require UV rays to activate, and if your windshield blocks UV rays, they won't work well when you're in the car.
Look for lenses with UV and glare protection. Make sure that your prescription sunglasses block 100 percent of harmful UV rays, just as your non-prescription sunglasses should. This won't affect your color and darkness, so you can choose any tint of sunglasses you like. If want added glare protection, you can also choose prescription polarized sunglasses.
Ask your eye doctor about a discount. If you order your regular eyeglasses and your prescription sunglasses at the same time, you may be able to get a special discount. You can also order your prescription sunglasses online, as long as you have an up-to-date prescription from your eye doctor.
If you're looking for an ophthalmologist or optometrist in Derry, Londonderry, Raymond or Windham, Spindel Eye Associates is here for you. Having spent over 35 years providing eye care in New Hampshire, our eye doctors proudly provide our patients with personalized eye care, using top of the line technology. For more information or to schedule an eye appointment call 603.421.6536 or contact us through our website.